welcome to the magi stop website!!

here you can read the magi stop comic and learn about the webmaster ponymoe ☆ ★☆★☆★
best viewed in google chrome / on a computer !!
☆enter the magical girl world with tammy and mina and watch them as they adapt to their new digital lives inside the magi stop arcade game !

ponymoe here!!!! Thank you for viewing my website!! the site is still in early stages and i will be updating it frequently with more fun things to look at and interact with!! :D☆


magi stop is a comic about my magical girl characters !! my magical girls mean so much to me so im so excited to share them with everyone ☆
i also use this website as a place to present my thoughts and personality through decorative, cute webpages!!!

a lot of the graphics on this website are from other sites, you can find links to graphics pages i use on the links page!! some of the art however is my own, so i'd much rather people found their own graphics instead of the ones on my site just in case someone accidentally uses my art with no credit! :3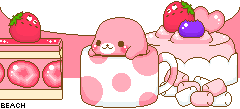 diary
20/12/22
welcome to my digital diary!!

this is literally what its called, a digital diary!!! ill write about my feelings or my day or just something thats interesting atm.
recently i have been drawing a lot more than i did for the past few months, a lot of people noticed that i wasnt posting much and i think my lack of creative motivation was due to me adjusting to college. also sorry if i make spelling mistakes i am a bad speller and have acrylics on atm so typing on a laptop is super difficult!!!!! i havent felt inspired for ideas for drawing however ive just been drawing my usual angels and doing commission and comic work. when im in art block i always feel like my art is unoriginal and quite bland which i see a lot of my mutuals go through and its kind of comforting to know that its just a feeling im getting from being in art block. anyways ive got nothing else to write i might update this soon wiv another diary entry. baiiiiiiiiiiiiiiiiiiiiiii :3

☆ update log ☆
11/5/22 ~ created chapters page!
12/18/22 ~ website has been made public!!
12/19/22 ~ edited the homepage, added an info box + new background

23/10/22
Hello! here you can ask me any question about my comic or myself !!! ask away ☆ ★

ponymoe☆★

23/10/22
Hello! here you can ask me any question about my comic or myself !!! ask away ☆ ★

ponymoe☆★

06/11/22
☆ anon asked :
Where do you get inspiration for your drawings from? or did you just mess with drawing programs and pick an arstyle?
☆ i'm mainly inspired by 2000s moe animes like di gi charat and lucky star, the way i made it my own artsyle tho is through developing it!! just trying new ways of drawing eyes and colouring methods ☆

09/11/22
☆ anon asked :
Why i can't see the comics/chapters i want to read the comics!! Please read this
☆ the comic isnt available yet because chapters one and two arent completely finished yet!! dont worry tho they will be readable very soon :D ☆

12/11/22
☆ anon asked :
what's your sexuality?
☆im currently ulabelled because i am very indecisive and dont like labels but i like all genders!! ☆

13/11/22
☆ anon asked :
How do u feel about your artstyle? (ur so cool btw :D)
☆ i really love my artstyle atm! it took a while to get it to be how i wanted it to and i still have a lot of room for improvement but i really love it!! thank you so much :3 ☆

19/11/22
☆ anon asked :
hey Eri, are you going To do more speed paints in the future??
☆ i do my speedpaints on my laptop so i dont do them that often but soon i'll be getting a pc so i will draw on that a lot and make more for my youtube!! i do upload speedpaints to tiktok tho aswell :3 ☆

18/12/22
☆ anon asked :
when did u create tammy and mina ??
☆ i created tammy first almost 3 years ago and then mina was created shortly after !!! ☆

18/12/22
☆ anon asked :
do you have any queer character ???
☆ all of my characters are lgbtq+ !!!! ☆

18/12/22
☆ anon asked :
was it free to make this website? would u ever post a tutorial on your YT on how to make a site? it's so cute i wish everyone did this, it's a really fun way to learn about ppl
☆ it was completely free to make this site and learn html + css, i dont think id be able to make a tutorial though because of how much goes into learning how to make a site,, i do however have the website i used to learn html + css linked on my home page and learning those two coding languages is the first step in building a site, after that its mainly just experimentation and problem solving !! ☆

26/18/22
☆ anon asked :
Wut do u think abt ppl usin ur art as pfps??
☆i love it!! i expect some credit when people use my art as their pfps but a lot of people forget and i understand that!! it makes me so happy seeing people use my art as their pfps!! ☆

comic updates !!!

chapters one and two will be available in a week!!

info !!!

you can contact me here on instagram!!
i have commissions info and my youtube linked in my linktree!!
please do not copy any of my code, i worked hard on this site!